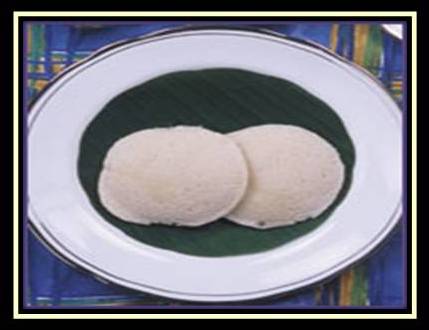 RAVA IDLI
Ingredients
1 pav bombay soji
½ litre sweet curds (thick)
5-6 tsp ghee
5 green chillies
1 small piece ginger
4 tsp coconut gratings
10 to 12 cashewnuts
1 sprig curry leaves
½ tsp mustard seeds
salt to taste
Method
Cut ginger and green chillies finely.
Prepare seasoning in frying pan with mustard and curry leaves in ghee, and put chopped green chillies to it.
Then mix soji and cashewnut bits the seasoning and roast for a few minutes (till brown) on a low flame.
Take out from flame. When cool, transfer the roasted soji to a vessel.
Prepare idli mix by adding coconut gratings, curds and a little salt to the soji and keep aside for half an hour.
Rest of the Method is same as for plain idli, except that the idli cups are greased with ghee, instead of oil.